BERES 2-Star Fairway Woods
BERES is the most premium golf club brand in the world, designed in Sakata, Japan with strict adherence to Honma's legendary quality and craftsmanship. BERES is for those who appreciate artistry and demand performance. BERES 2-Star fairways are created with striking beauty and technologically-advanced materials to deliver uncompromised looks and performance for the discerning golfer.
Technology

The energy at impact is received by the slit of the body face and sole that has been thinned to the limit, effectively deflecting the entire face to the body, the deflection return effect strengthens the push of the ball and increases the flight distance
In order to maximize the deflection effect between the face and the slit, the corner of the face edge is rounded to avoid the partial concentration of stress, and the effective deflection area is expanded.
The thickness of the crown has been reduced to 0.5mm (average) to reduce weight. The surplus weight is reflected in the optimum center of gravity design. A shape that makes it easy to raise the ball with a shallow face and shallow back.
About This Product Listing
- Available in 2 option: #3W/ #5W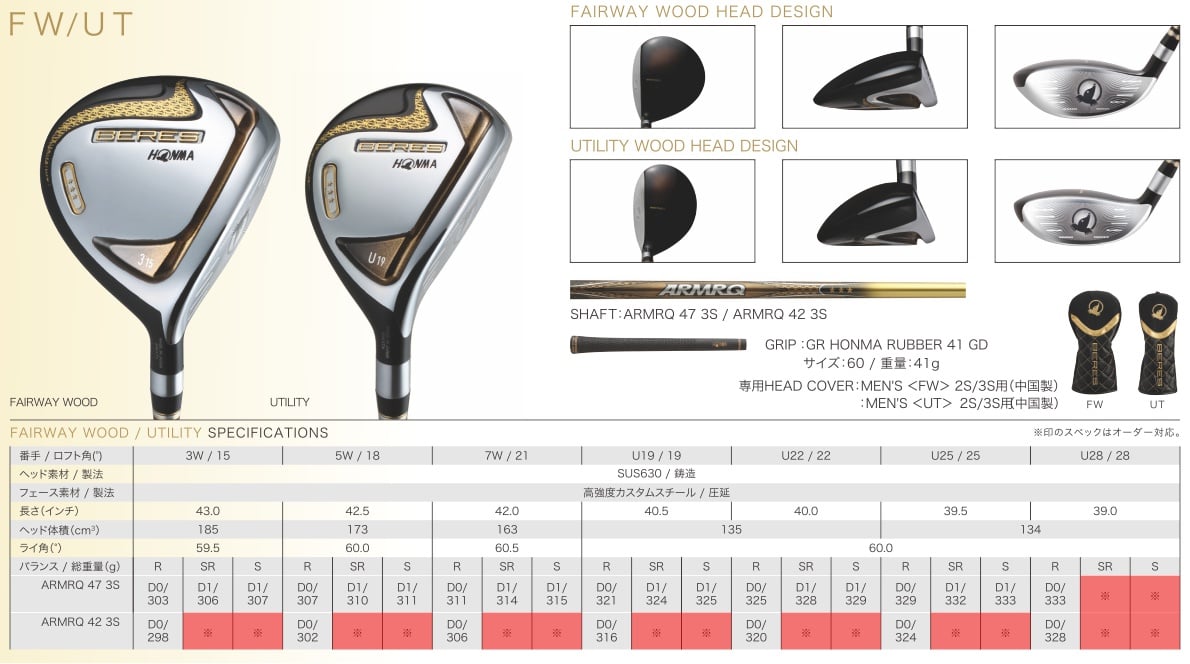 ARMRQ 2S Shaft Specification
Shaft Specification
Shaft
ARMRQ 47 2S
ARMRQ 42 2S
Material
Metal hybrid 7-axis sheet + TORAYCA (R) T1100G
Metal hybrid 7-axis sheet + TORAYCA (R) T1100G
Condition
First tone
First tone
flex
R, SR, S
R, SR, S

Bat diameter (mm)

R
15.6
15.3
SR
15.6
15.3
S
15.7
15.4
Tip diameter (mm)
8.6
8.6
Count
3W
5W
7W
3W
5W
7W

Weight (g)

R
47.5
47
46.5
42.5
42
41.5
SR
49
48.5
48
44
43.5
43
S
50.5
50
49.5
45.5
45
44.5

Torque (°)

R
6.6
6.6
6.6
7
7
7
SR
6.55
6.55
6.55
6.95
6.95
6.95
S
6.5
6.5
6.5
6.9
6.9
6.9

Frequency (cpm)

R
251
258
265
216
221
226
SR
259
266
273
224
229
234
S
267
274
281
232
237
242
Shaft
Balance
+0.5 inch
+0.25 inch
standard
-0.25 inch
-0.5 inch
ARMRQ 42
D3 (D2-D4)
D2 (D1-D3)
D0
C9 (C8 to D0)
C8 (C7 to C9)
ARMRQ 47
D3 (D2-D4)
D2 (D1-D3)
D0
C9 (C8 to D0)
C8 (C7 to C9)