BERES 2-Star Irons
BERES is the most premium golf club brand in the world, designed in Sakata, Japan with strict adherence to Honma's legendary quality and craftsmanship. BERES is for those who appreciate artistry and demand performance. BERES 2-Star irons are created with striking beauty and technologically-advanced materials to deliver uncompromised looks and performance for the discerning golfer.
Technology

Wave Slits - High initial speed and high launch are realized by the effect of the slits arranged in two places inside the sole and one place outside. Reduce flying distance loss due to the blurring of hitting points.
Significant Increase in Face Volume - L cup face volume increased by 20% (compared to the previous model / IS-06), improving rebound area and resilience performance.
Large Face Opening - Enlarging the face repulsion area by enlarging the face opening.
MOI and Low COG - Distributes excess weight to the rear of the toe and heel sole → Increases the moment of inertia and lowers the center of gravity.
About This Product Listing
- Set contains: #5 - #6 - #7 - #8 - #9 - #10 - #11 - SW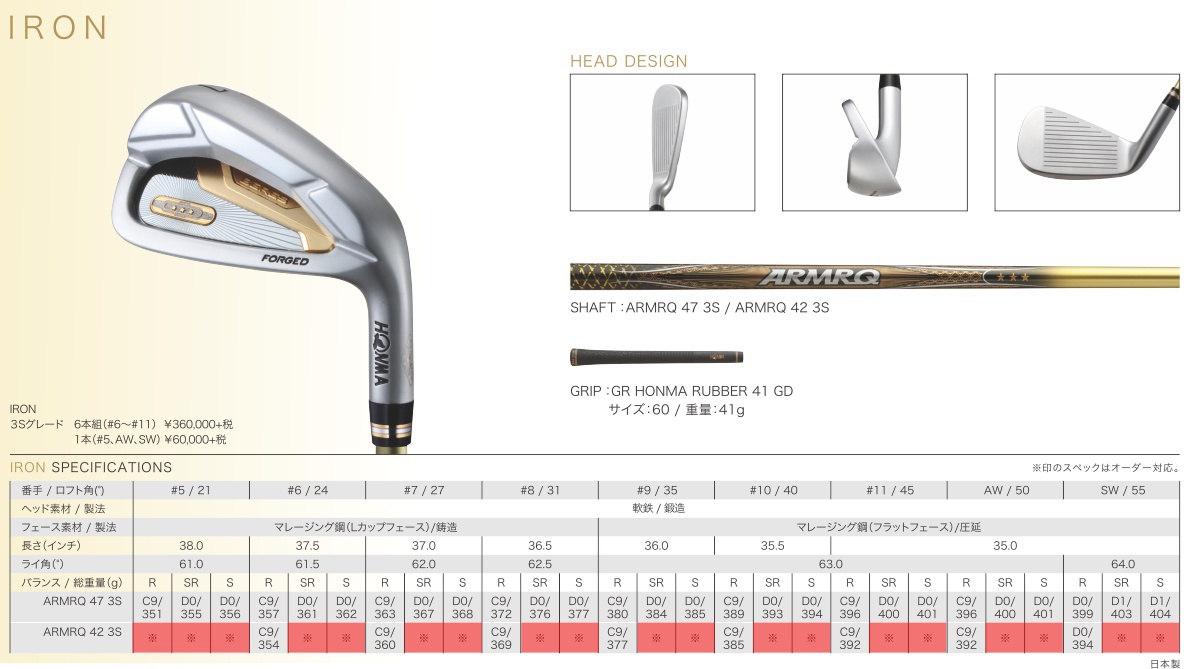 ARMRQ 47 2S Shaft Specification
Material
Metal hybrid 7-axis sheet + TORAYCA (R) T1100G
Condition
First tone
flex
R, SR, S
Tip diameter (mm)
9.3
Count
5
6
7
8
9
10
11
AW
SW
Weight (g)
R
48.5
48.5
48.5
51.5
51.5
54.5
54.5
54.5
54.5
SR
50.0
50.0
50.0
53.0
53.0
56.0
56.0
56.0
56.0
S
51.5
51.5
51.5
54.5
54.5
57.5
57.5
57.5
57.5
Torque (°)
R
4.72
4.65
4.58
4.45
4.38
4.25
4.18
4.18
4.18
SR
4.67
4.60
4.53
4.40
4.33
4.20
4.13
4.13
4.13
S
4.62
4.55
4.48
4.35
4.28
4.15
4.08
4.08
4.08
Frequency (cpm)
R
258
266
274
286
294
306
314
314
314
SR
266
274
282
294
302
314
322
322
322
S
274
282
290
302
310
322
330
330
330
ARMRQ 42 2S Shaft Specification
Material
Metal hybrid 7-axis sheet + TORAYCA (R) T1100G
Condition
First tone
flex
R, SR, S
Tip diameter (mm)
9.3
Count
5
6
7
8
9
10
11
AW
SW
Weight (g)
R
45.0
45.0
45.0
48.0
48.0
51.0
51.0
51.0
51.0
SR
46.5
46.5
46.5
49.5
49.5
52.5
52.5
52.5
52.5
S
48.0
48.0
48.0
51.0
51.0
54.0
54.0
54.0
54.0
Torque (°)
R
4.75
4.68
4.61
4.48
4.41
4.28
4.21
4.21
4.21
SR
4.70
4.63
4.56
4.43
4.36
4.23
4.16
4.16
4.16
S
4.65
4.58
4.51
4.38
4.31
4.18
4.11
4.11
4.11
Frequency (cpm)
R
245
252
260
268
276
285
295
295
295
SR
253
260
268
276
284
293
303
303
303
S
261
268
276
284
292
301
311
311
311
Shaft
Balance
+0.5 inch
+0.25 inch
standard
-0.25 inch
-0.5 inch
ARMRQ 42
-
D0 (C9 to D1)
C9
C8 (C7 to C9)
C7 (C6-C8)
ARMRQ 47
-
D0 (C9 to D1)
C9
C8 (C7 to C9)
C7 (C6-C8)